To get there simply drive along the lakeshore towards Yarralumla, and turn right into Weston Park. The memorial is a kilometre into the park on the waters edge.
Commemorate ten years since the SIEVX Tragedy...
It's ten years this month since the SIEV X tragedy, the sinking of a refugee vessel that took with it 353 lives, most of them women and young children.
Please come and join us in two events to remember them, support their bereaved husbands and fathers, and continue the campaign to find out how this could have been allowed to take place.
1. So many lives, So Many Questions - An Evening of Commemoration, and Concern.
An evening of presentations featuring Senator Christine Milne, author and psychologist Steve Biddulph, and screening for the first time the film "Remembering SIEVX", showing the memorable day in 2005 when 1000 Canberrans helped raise the SIEVX Poles on the lakeshore at Yarralumla.
Canberra City Uniting Church 69 Northbourne Ave. 7.00 pm for 7.30 start, Friday Oct. 21st.
2. A Gathering By The Water
A picnic lunch at the SIEVX Memorial Site on the lakeshore in Weston Park, to meet and talk, followed by a ceremony along the poles to the waters edge.
SIEVX Memorial Site, Weston Park, Sunday 23rd October, picnic 12.30 onwards, ceremony at 2.00 pm. BYO food.
Download flyer (pdf, 286kb) for more details
Aerial photos of SIEV X Memorial, Weston Park, Yarralumla, September 2007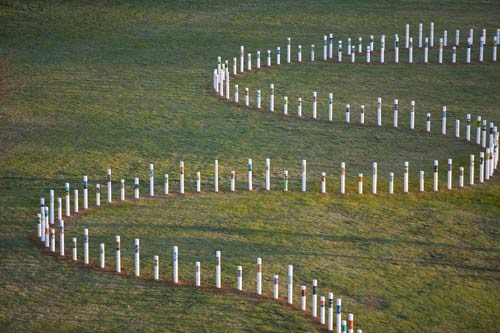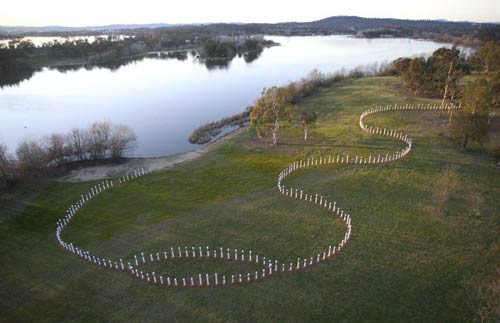 The Memorial is there, and we think its there to stay !
Recently Steve Biddulph and Linda Dalton met with Minister for Home Affairs Bob Debus who gave personal support to the idea of the Memorial becoming permanent, but stressed that this has to be approved by due process. We are currently submitting to both the NCA for this, and to the ACT Government to extend their current permission until October into a permanent permission. We are very optimistic, the project is well within all guidelines and Labor has previously supported two motions in the Senate to approve the memorial, so is hardly likely to reverse this in government.
We are now also beginning to work on the campaign for an enquiry into whether the previous government or its agencies had any role in the sinking or the failure to rescue the 353 parents and children who died. And for the Federal Police to make public their passenger list, so that all the poles can be named and those people's memory be honoured. Please tell your friends to visit the memorial when they go to Canberra. Its a lovely and moving experience that is not easily forgotten, and a sign of promise for a better Australia.
If you are new to the SIEVX story, please click below...